We are happy to bring you another great update to Blueworks Live. Before reviewing the new features in this update, let's recap some of the previous updates to Blueworks Live from the first half of 2011:
January: The initial release of glossary provided the capability to document your terminology and to understand all the places where it is used in your account. We also enhanced the automation capabilities to provide better email notification, search support, and flexibility when using Process Apps.
April: An update to the glossary enabled more effective management of your terms with ability to rename and merge values. Process playbacks offered a more effective way to communicate specific process flows. Navigation enhancements allowed users to more easily find the right information in your account.
May: Support for tagging Processes and Spaces provided new ways of organizing your account and finding information. User provisioning APIs enabled you to de-provision users as they leave your organization. Expanded credit card support allowed customers outside the US more flexible payment options.
It's been a busy first half of the year! Let's take a look at what the July update brings to Blueworks Live.
BPMN 2.0 Import
We feel that Blueworks Live is the best offering on the market to document, share, and drive understanding of business processes throughout your organization, and we want to make it easier for you to leverage previous process discovery efforts.
In this release of Blueworks Live we are adding support for importing the BPMN 2.0 format.
BPMN has become one of the most important standards in process improvement as it is embraced by both business and IT to represent how businesses operate, and we are happy to expand our support for it. To get started, j
ust navigate to a Space in your account and click on the import button.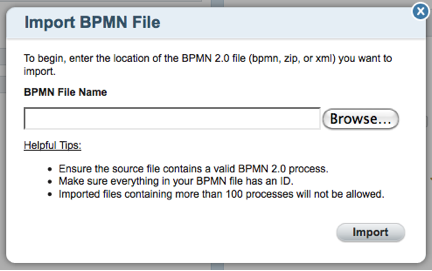 Copying Spaces
Customers and business partners have told us that they want to create department or project templates that consist of multiple Process Blueprints and Process Apps in order to clone and tailor them for different parts of an organization. Now with this Blueworks Live update, you can make a copy of an entire Space within your account or even copy a Space to another account. This can also be a useful feature when you have users that sign up for separate trial accounts and you want to merge the processes into a single account later. Check out the video on copying Spaces on the Blueworks Live YouTube channel for more details.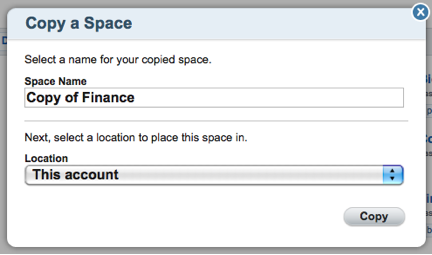 In Conclusion
We've had some great feedback on the capabilities delivered in the first half of the year, but rest-assured we are not going to take it easy for the rest of the year. We have some very exciting work coming up in the second half of 2011 and can't wait for you to use it. As always, if you have any feedback or questions please contact support@blueworkslive.com
Sincerely,
Blueworks Live Product Management